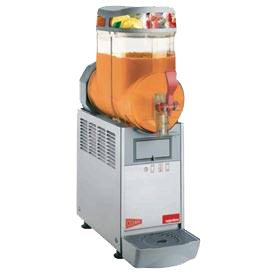 Age Group: All Ages
Outlets: 1
The container holds approximately 2 ½ gallons.
It is highly recommended that you use the slush machine indoors. The machine may not slush or may take several hours to make slush if operated outdoors during extremely hot weather. The machine normally takes 1-2 hours to make slush if operated indoors. It is a good idea to have the liquid chilled before pouring it into the container to cut down on the slush time.
Make sure the drink you are using has a high sugar and/or alcohol content. Do not use diet or sugar free products! Carbonated drinks like Coke, Dr Pepper, and Sunkist work great. If you are using fruit juice or daiquiri products, make sure to dilute them with water to their correct consistency.
Prices are for 4 hr rental. Additional rental time available.